Me & Kata headed out early in the morning for the boat to Tallin, Estonia. It was time for Estonian Winner-  & EPLK club speciality- double show day!
Out of our 6 entered, we ended up just taking 4 as Emily was kind enough to be in season & Yeti lost all her coat to the blow drier!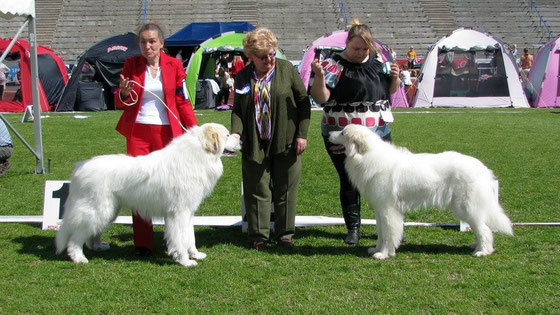 Estonian Winner went very well- Respera was BOB puppy!!!
FI, EE, LT, BY CH, LTW-13, EEW-14, EEW-15 Echo de'Chien Bewitched ""Wicca" was  BB1, BOS, CACIB, EEW-15 under Liliane de Ridder-Onghena, Belgium
EPLK-speciality Wicca went BB1, BOS, at under Salvatore Giannone, France.
Respera was BOB puppy & BIS puppy & our sweet Halla was BOS puppy!
Thank you everyone, especially darling Kata, the Chenespace girls & Marion for a wonderful trip! Tired but home safe & sound i got to start my 1st week of vacation as happy as a breeder can be!