We began our journey to Latvia early friday morning 21.03 with Mirka Grönroos & my dearest and closest friend Kata Lahikainen. In our car we had Chino & Emily in pyrs, Tarmo our TT, Karma Kata's AA and Mirka's two lovely Flat Coated Retriever girls Aada and Eve (also familiar to you who have been following our news for years, she travelled to Latvian Winner-12 with us as well).
We set up camp at Valentina 15 as always, and got a great deal for their cellar suite that fit the six of us travelling along side eachother. What a great way to be able to spend also our dear friends' Maija's birthday and meet a few of her friends. It is amazing how well 10 dogs and 6 ladies fit into a 100m2 space with great company a fireplace and nice tile flooring.
We began our triple show weekend at a FCI2 Group Show in Riga. Chino and Emily placed best of breed and best of sex under Otakar Vondrous making them both Latvian Champions and finalizing Emily's Baltic Champion title!
The evening we spent settling in, and getting ready for the biggest show of the weekend- Latvian Winner dog show!
Must admit I had little expectations as Tarmo wasn't in the best of coat and Chino was in his semi bikinis! But WOW did they make me proud! Chino placed Best Male under Fabrizio La Rocca from Italy and Best of Sex with his 3rd CACIB and Latvian Winner-14 title!
Not an hour later, Tarmo did just the same under Mona Selbach, NO! Making him Latvian Champion, Latvian Winner-14 and no less than INTERNATIONAL Champion!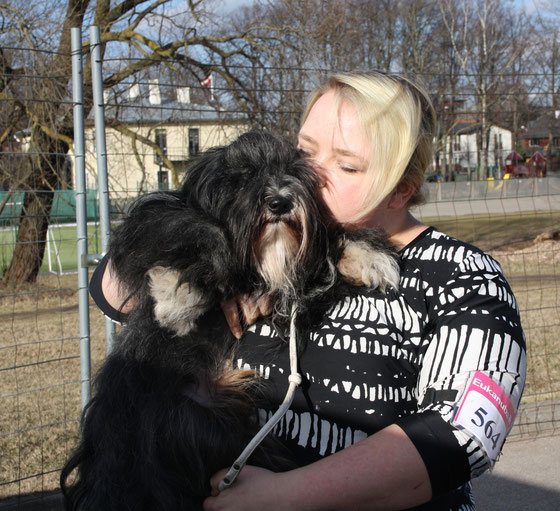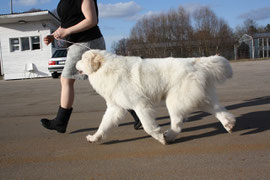 Emily placed BB-2 on saturday with her 4th res-CACIB, couldn't be prouder of this girl, and so lucky to have her as the dam of my 1st litter.
She has such grace in her movement and Kata showed her girl so well!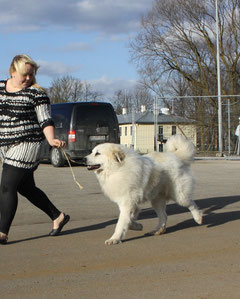 On sunday we rocked the house, Kata's Karma got Exc both days (my furry little god-daughter). Tarmo won Best of Breed under Sylvie Desserne with CACIB at the Riga IDS.
Mirka's girls got what they came for, placing BB-3 and BB-4 with JCAC and CAC and a sentence on her critiques that is closest to my heart "very well presented"!  Congratulations girl!
But the MOST memorable moment would be, needless to say- Chino and Emily winning Best f breed and best of sex under Anatoly Zhuk on sunday making them BOTH International Champions together!

What a feeling!
Since they were pups they have been a team together, and Kata has been the best travel companion and friend thru out the years, winning Junior Champion titles together, travelling Finland, Sweden and the Baltics together. Ah, what memories, and the adventures are far from over!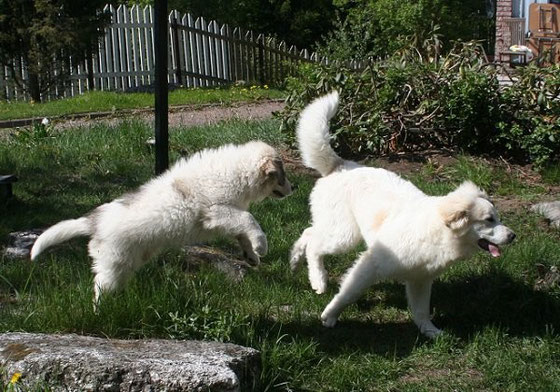 Our next big adventure is to have a litter after these two rascals, hoping to get some great bodies and movers!

So happy to get to use Emily, and so thankful to Kata for letting me use her to start my breeding finally after all these years of hardship with my breeding plans!
Somethings seem meant to be, and Team Chimily, is finally coming true!  So happy to have Kata, and exited to have this litter of ours!
xoxo