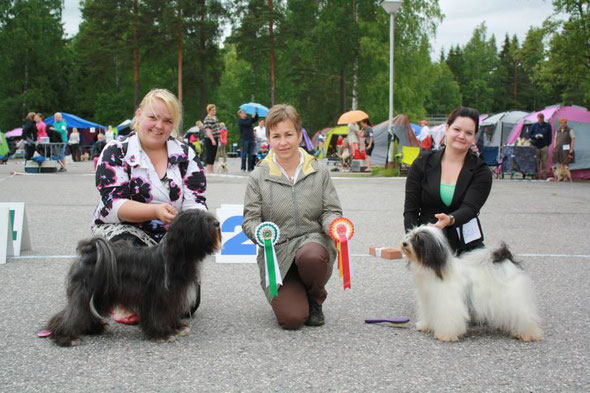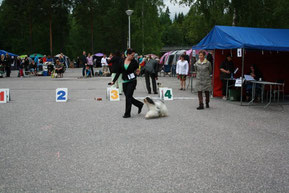 What a day, i've never had a "win it all" day but today was it, still can't believe it!  
Aura group show was spent half the day in pouring rain! Luckily the TT were spared from it but it was raining bucketfuls when the Pyrs were in the ring. 

Chenespace Raison d'Être "Chino" was BOB today with CAC!  Echo de'Chien Bewitched "Wicca" was BOS with her very 1st CAC  the judge was Angela Mcnally, Ireland.

The TT did just as great in quite a tough crowd I might add  Pindaros Excellent Me "Pepita" was BOB and BOB Veteran under the judge Charlotte Laning-Vrethammar, she was also the only bitch to get CQ! Pindaros King of Kings "Tarmo" was CH1, Exc, CQ, BM1, BOS with CAC and our newest Finnish Champion! 

WHAT A DAY! still on cloud nine  Thanks to everyone for the support special thanks to Niina the magic maker for showing and grooming Pepita and to Jenni for keeping me company in Niina's tent while it was raining and helping me show BOS! We also showed Pindaros Breeders class to BOB-breeder and did our best but didn't place in the big ring  Pepita was shortlisted in group and BIS-Vet but didn't place  challenging conditions for a coat today but we managed well!  oh and Congratulations to Tarmo's co-owner Petra!!