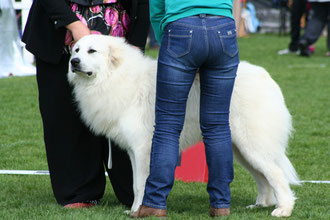 We had a great day at Riihimäki! I went to the show with 4 dogs, Chino was entered to Junior class in pyrs and Tarmo, Pepita & Niilo were entered in tibbies.
1st and foremost I have to stop and thank the Pindaros Team- it takes a great breeder to have a great team but WOW they are magic makers!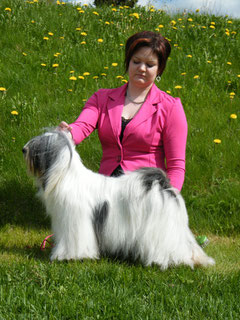 My breeds, even after they confirmed that they were not going to clash, nearly did. HUGE thanks to Niina Norima, Jenni Savolainen & Amox kennel breeder and Pindaros kennels team member Jaana Möytyri-Ulmanen!
Niina & Jenni did miracles and finished grooming Pepita & Tarmo for me while I was running frantically between ring 1 & 10 waiting for Pyrs to start before the TT.
I had such a great day all in all, we had so much fun near the TT ring all day plus I got to see Chino's breeder Tuulikki, and a few other pyr people too. Hissu Toivonen & her mother Tytti helped out more than enough and photographed both rings with 2 cameras!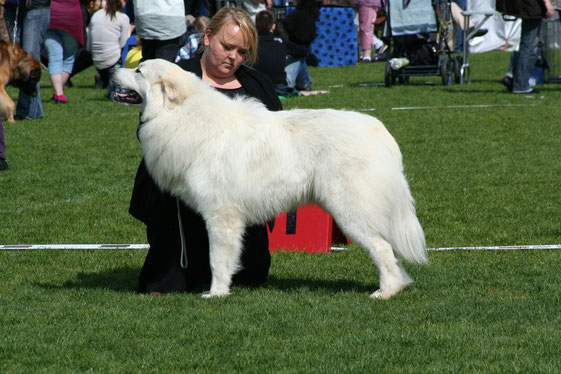 Chino was judged by Katrin Lahi from Estonia and he placed 2nd in Best Male ring again! He has been in 3 Junior rings in Finland and twice placed 2nd before Champion class males, could not be more proud of my precious boy!
He was a bit too hot & a bit tired, but the better & more ready dog won! Congratulations to Covermount Andorra for finalizing his Finnish Championship!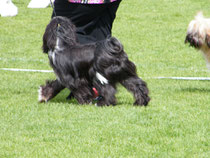 Once I got back to the TT rings, I had 3 TT groomed & ready for me- I am so thankful for all the help!
The rings started and Tarmo was in the 1st class to go, he won his class recieving Jun-1, Exc & CQ!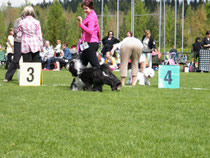 After that the Pindaros Team had a male in Intermediate class, Pontus, P. Jipikajey who ended up being BM-3! and Justus (P.I'm in the Mood) ended up being BM-4!
Big congrats to their owner Niina Norima! they looked absolutely fabulous!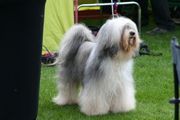 Niilo (P. Dream Images) got Exc, and placed BOS Veteran. 
I am very happy, the judge could not believe his age as he had way too much energy.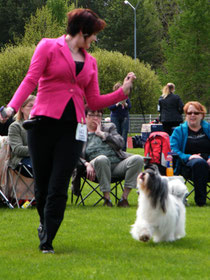 Jaana's girls did excellent as well. Amox Angel without Wings got Exc & Iiita (P.Fantastic Me) was BOS!
Pepita won the Veteran bitch ring and was BOB veteran! Niina showed my piece of gold to perfection!
We also got to show in breeders class and Pindaros Kennel got BOB- Breeder with Pontus, Justus, Iita & Tarmo!
Kennel Pindaros placed in the BIS-breeder ring
& 
it was
BIS-1 BREEDER!
Biiiiig congratulations to Petra Sankelo!