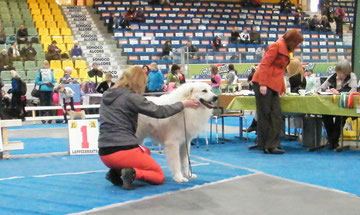 Lappeenranta brought us success! Chino, Chenespace Raison d'Être was BM-2 with reserve-CAC, a big thanks to Juulia, his breeder (one of three) for handling him in Junior class! You two looked Fabulous!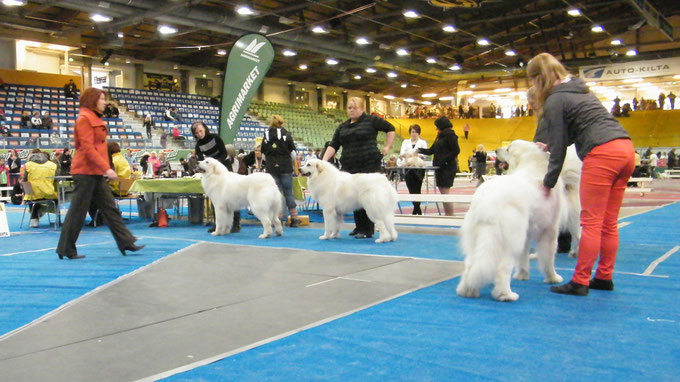 Chino placed 2nd behind Odysseus de Joli Jaunter in best male ring!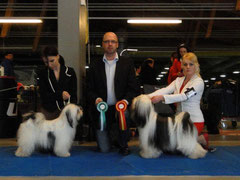 As always, my rings just didn't co-operate as well as i hoped, and our Pyr ring was running late and overlapping the tibby ring. Thankfully I had Jenna from kennel Petpursuit at the same show who was wonderful as always, to save my butt and show Pepita for me in the ring. 
Pepita did great with Jenna, we are very proud, and very thankful!
She was Best of Breed Veteran, and Best bitch, placing as Best of Sex with CAC- thus finalizing her Finnish Championship! and her Lithuanian Championship.
The day didn't end there, She ran straight from her TT ring with a lovely young lady to the Junior handlers ring, and have to admit, what a big class of Junior Handlers there was indeed! Stefi placed 4th with Pepita in JH 2/2 class! And they both showed really well!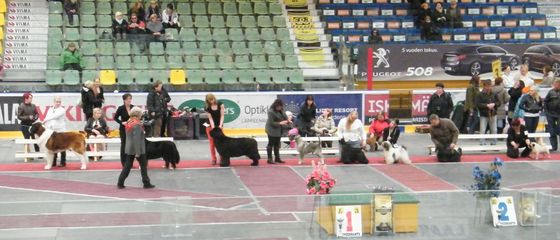 it didn't take more than a few minutes once the JH ring was done that Jenna came to take Pepita away from me :) 
it was time for BIS-Veteran rings and she was more than happy to show Pepita at that ring as well as she showed her in the TT rings too!
1st Pepita was shortlisted to the top 8 dogs from a relatively big group of veterans. My seconds have never gone as slow when Gunnel Holm was pondering between the top 8 that had been shortlisted. She 1st picked three dogs out and stopped for a moment (that felt like an eternity) to ponder between Pepita and a gorgeous old Cocker to which would make it from top 5 to top 4! Pepita was sent out of the ring with a big smile on her face and mine too as they did just absolutely faboulously!