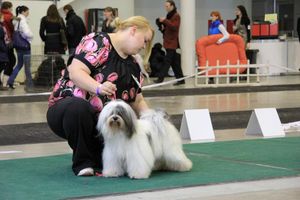 We traveled towards Lithuanian Winner 2012 double CACIB show on friday with Kata & Mirka!
This time our car was packed with Chino, Emily, Pepita, our beloved American Akita from last summer travels, Midian's Zumba who is owned by her breeder Katri Laitila, and we had a gorgeous Junior class Flat coated retriever bitch Eve with her owner Mirka in our car as well!
Chino (C.Raison d'Être) got his second JCAC from Lithuania on saturday being BOS with Lithuanian Junior Winner 2012 title! Emily (EDC Amelie Queen) was BB2 and lost by a hair literally due to her bikini coat but she did try her best and showed perfect as always.
Pepita our veteran tibby was BOB Veteran and got her 1st Veteran CAC and Lithuanian Veteran Winner 2012 title on saturday!
Our travelers did well saturday too, Eve the flattie was BOS Junior with her 1st JCAC and Lithuanian Junior Winner -12 title! Zumba the AA was exc with 1st place in youth class and kicked ass in the BB ring but lost to a champion class bitch being BB2 in CACIB ring. Kata and Zumba just have that flawless show attitude i love to watch! Plus Zumba is something just so amazing in itself that i am glad to have her on our trips.
We got a million photos and now we're just waiting for Mirka to get thru with all of them.....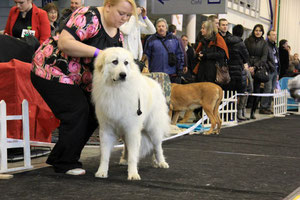 Sunday CACIB show brought success for me personally. 
Chino was BOB and got his 3rd JCAC from Lithuania fulfilling his LITHUANIAN JUNIOR CHAMPIONSHIP, and thus also his ESTONIAN JCH!  Emily being BLT JCH did not show on sunday.
Pepita was BOB veteran with Veteran CAC on sunday and kicked ass with a great critique from a great judge! Pepita was shortlisted by Petra Junehall in BIS VETERAN rings to top 8 from over 30 veterans! Kata went to the big ring with Pepita and she did a fabulous job, and Pepita ran with a fab.drive just the same as her breed judge had congratulated her on! Thanks again Kata!
Eve the flattie was BOB Junior on sunday with JCAC and Zumba kicked ass in the AA ring on sunday beating all the girls and being BB1 with CAC and CACIB! So proud! And she showed so great on both days, i bet she knows she's drop dead gorgeous. 
Again a great trip, in great company. Glad to have met Mirka, and Eve will travel with us in the summer without her pregnant mommy :) 
Can't wait for our next trip! And gladly, don't have to  ;) next friday our pumkin ride is taking us to the LATVIAN WINNER SHOW!! Lots more pyrs in the ring, wish us luck!!!