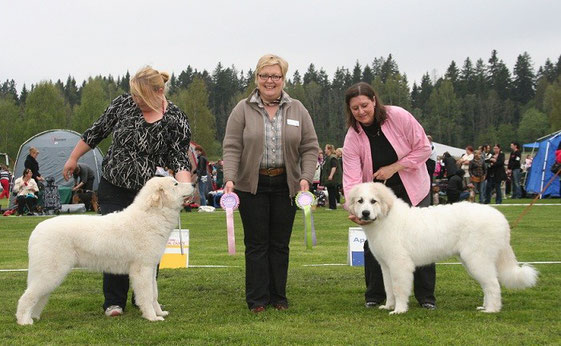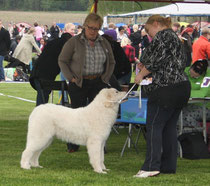 Wicca was at her 2nd puppy show and this time placed BB1 and BOB under Judge Marianne Holm. We had a wonderful day at the puppy show, our friends from kennel Petpursuit had their tibby puppy with them and Dana ( Ti la Shu On the Rocks) was BOB puppy in her class of 5 tibbies. We had 4 pyr baby class puppies at the show, out of which 3 were bitches in Wicca's class.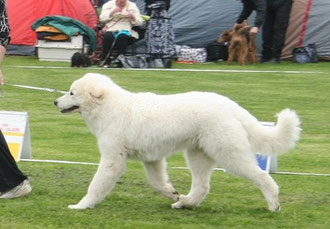 She got a wonderful critique and alot of praises for her ideally typical movement. We spent the day with a family of a certain adult Tibby boy and their 8 year old daughter just loved Wicca. they went around the rings together watching people and kissing everybody on their path.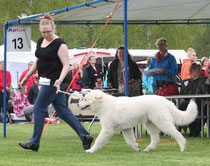 Kata showed her in Group rings and she got shortlisted in top 8 of the 20 or so puppies that were BOB in their breeds. On the sad part Wicca had a rough but fun day and did not manage to get much sleep much from all the play so no matter how well Kata showed her, we just didn't have that spark in the ring, and did not place in the top 4 of our group this time but thank you Kata for the wonderful handling <3 and the company as well as Jenna!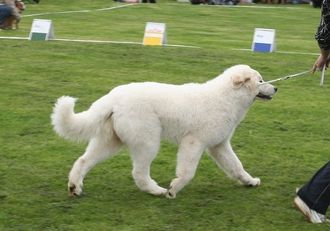 Can't wait for sunday, we have 3 tibbies and Chino entered to Riihimäki show!
Summer time really feels like it's here! Show season!