We had a wonderful day with Kata Lahikainen & Jenna Timonen. Jenna had her TT puppy Dana with her and I had Chino and Wicca. I also had the pleasure of showing Helinä: Soulman's Tinkerbell.
Chino got VG, and was the only one in his class. The judge said he was abit high on his legs at the moment, but then again he was only 13months. We did not show our best confidence today, but we will get there!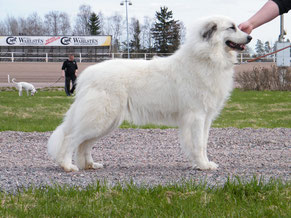 Tiina Weurlander's Helinä on the other hand had a hit day! She showed well with me and moved beautifully. She was BB1, CAC, BOS, --- and Finnish Champion from the 1st show possible since she turned 2 years! 
I am very proud to show her on such an occasion and glad to help and show her either way. But We did very well! I am very proud of her!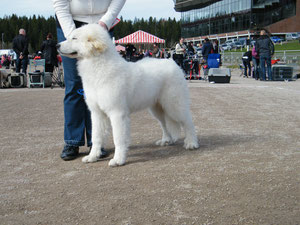 our youngest member of the family Wicca, Echo de'Chien Bewitched showed for the 1st time at the age of 6months in her very 1st puppy show! My dear and trusted friend Kata showed her to perfection, and she was one of the two only bitches to get PP and placed 2nd! 
Kata's Esmé will need a few more months before it's her turn but it will come ;) 
Can't wait for our next trip! Riihimäki HERE WE COME!